On-Hold Message Players/Equipment
Having the right playback equipment ensures your message
on-hold productions are heard clearly and consistently.
SayItOnHold is proud to offer top quality, reliable digital on-hold message players that are compact, easy to use and deliver clear, crisp sound day after day, year after year!
The Messager USB provides quality playback of up to 1024 audio files. Storing and playing your hold messages digitally limits the mechanical breakdowns experienced with analog equipment.
Designed for continuous, clear audio playback, its solid-state memory re-boots the audio playback automatically after a power outage.
Loading your on-hold message productions is easy. No need for special software. Just "drag and drop" mp3 file(s) onto the included USB Flash Drive. Then, plug the USB drive into the unit and your messages are loaded.
IMPORTANT!
If you are using KSU-less or non-system telephones, such as
SINGLE-LINE, 2-LINE, 3-LINE OR 4-LINE PHONES WITH A HOLD BUTTON...
...you will need an audio adapter to
allow your on-hold messaging programs to be heard by callers on-hold.
Audio adapters mimic the on-hold function of a KSU or PBX telephone system to allow you to plug in an audio source, such as a digital announcer, iPOD/mp3 player, etc. Please provide SayItOnHold with the names and model numbers of the individual phones you are using to determine the usage mode of available audio adapters.
Customer is responsible for installation or contracting with local party(s) for Installation of playback equipment & audio adapters.
If you already have on-hold playback equipment installed on your phone system, we can produce your on-hold messaging programs to accommodate the required format.
HERE'S A CONVENIENT, COST SAVING SOLUTION...
... the iHold 2LP or 4LP audio adpater with a great sounding digital mp3 player built-in!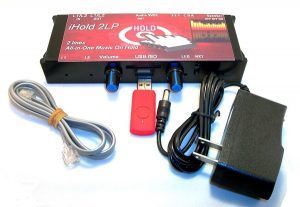 iHold audio adapter/players provide an all-in-one solution, allowing virtually any telephone to play messages and music on-hold. Loading of files is simple via USB or SD card.